How can the design of the watch offer a glimpse of time itself? Ask Israeli watchmaker Itay Noy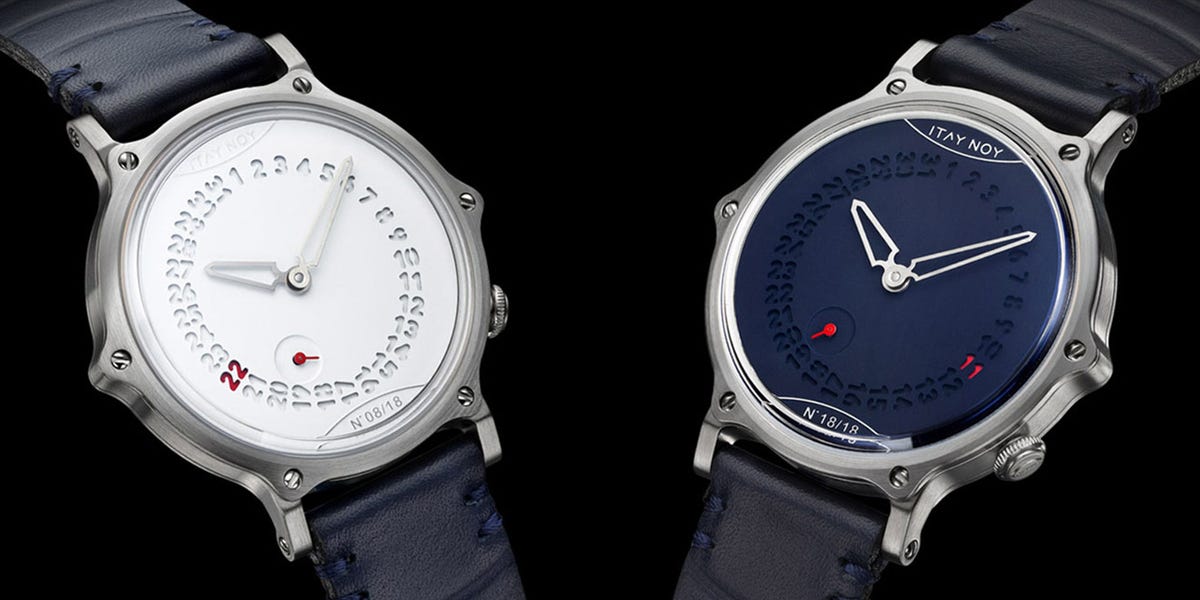 A watch is above all a timepiece. But for Israeli designer and watchmaker Itay Noy, it can be much more: it is a canvas for art and a vehicle for exploring philosophical ideas. From concept to production to final sale, his watches are made to order at his Jaffa studio in Tel Aviv, Israel – and his approach is unconventional to say the least.
Since 2000, he has presented a new collection each year, each an exercise in breaking with a perception of time received. While they always include a compelling visual element, Itay Noy's concepts involve alternate time displays and non-traditional components that must be invented and created especially for his needs. He makes a lot of them, from dials to movement modules, and he's largely self-taught.
Producing only around 150 watches per year, Itay Noy stands out for the relative affordability of its parts – often around $ 6,000 – compared to other watchmakers offering extremely limited production and avant-garde and conceptual watches. which tend to be very high end. Many Itay Noy watches require a little effort to decipher at first, but provide a truly unique experience once you get the idea. What better way to understand the spirit behind these creations than to speak with the man himself? Gear Patrol had the chance.
LEARN MORE
Editor's Note: The following interview has been edited for length and clarity.
Q. How would you describe your work to someone who has never seen it?
A. I am an independent watch manufacturer – one of a few dozen around the world. Since 2000, I have been creating limited edition handcrafted watches. Every year, I unveil a new collection, trying to capture a new philosophical perspective on the concept of time. I make around 150 pieces per year, all of my own original creations, using the highest quality components and movements built into internal dynamic dials.
Q. Has your interest in design always been about watches? Was there a watch or an experience that particularly inspired you or impacted your professional career?
A. I have loved watches since I was a child, and when I was 22 I found a job in a watch store by chance and immediately became interested in the world of watchmaking. The watchmaker at the store taught me some basics in repairing watches, and it was the start of my dream of designing my own. Later, I studied Fine Jewelry (B.FA) and Industrial Design (M.DES) for six years and developed the core value of my design – the concept behind watches.
I try to bring a new spirit, to evoke a different point of view, instead of a purely functional object. We live in a world where the wristwatch is no longer necessary because we can find the time everywhere, and I think that the watch has become an identity object and a sculpture on the wrist.
Q. You manufacture many watch components yourself. What parts do you make and how do you select the parts you source?
A. I only use high quality movements, which I source from small studios and suppliers in Switzerland. The movement is the heart of the watch; it has to look good and work like a perfect platform.
The dial is the face of the watch (the character) and should tell the story of the watch. I look at the dial as my canvas to "paint" and express my ideas. I design and produce dynamic dials in-house. All other parts (including the case and straps) are original designs by me.
Q. What unique skills or techniques have you learned specifically to execute your unique concepts?
A. I officially studied fine jewelry, crafts, and industrial design. I have learned most of my watch knowledge by researching and experimenting on my own with a lot of passion over the past 25 years. I can define myself as a self-taught watchmaker.
Q. What has been your most complicated or difficult project to date?
A. The Part Time, Chrono Gears and ReOrder watches were the most complicated and difficult projects to develop. I needed to think about a system that would synchronize additional speeds in order to provide new functions.
In each of them, the watches started with an abstract idea and, after months of research, became what they are at some point, by chance (and luck). The important thing is to play, to observe and to detect the moment when something is happening, when that happens.
Q. You say that each new collection aims to "capture a new philosophical perspective on the concept of time". What does the weather mean to you? Can something like art or a watch influence the way someone perceives or experiences time?
A. I am not trying to change the concept of time, but I like to make people think about the meaning of time by looking at my watches. We all share an international time system, but each of us has a personal sense of time that is different.
The idea behind the Part Time watch is to frame the moments of a day: each window displays a partial indication of the time and, together, they complete the complete information. While the left half of the dial reveals the daytime hours from 6 a.m. to 6 p.m., the right half is hidden. In turn, the right half reveals the night hours from 6 p.m. to 6 a.m. While one side is awake, the other is latent, and they change roles every twelve hours.
The idea behind Chromo Gears is to show eight time situations in one day. There are three different ways of reading the time in this collection: In addition to the traditional analog way of reading the central hour, minute and second hands, two Chrono Gears rotate around the dial clockwise and contain a central needle, the needle. While one Chrono Gear indicates 24 hours (am-pm) on the lower half of the dial, the second Chrono Gear indicates eight time situations – dawn, morning, noon, afternoon, twilight, evening, midnight and night.
Q. As an Israeli watchmaker with a studio in Tel Aviv, how does your location or background affect your business or artistic approach?
A. I am happy with the title "Israeli watchmaker". On the one hand, most collectors prefer to buy a Swiss Made watch, but on the other hand, I'm the only independent watch studio in Israel, and that's special. My studio and gallery are located in the beautiful old town of Jaffa, and it's inspiring. Visitors are welcome to meet me, see the process and all of the timepieces.
There is a history of watchmaking in my grandmother's family in Germany, but I only discovered it after I started making watches. I believe in personal and small production; I make all the watches directly for the customers, and they have direct contact with me whenever they need my service or advice.
Q. Which artists, designers, watchmakers or other interests inspire your work?
A. (The short list) World of design: Gijs Bakker, Jurgen Bey, Vered Kaminski and Roc Wong. Watch world: Abraham-Louis Breguet, Yvan Arpa, Konstantin Chaykin and Daniel Nebel. And especially my family!
Q. How do you envision the person who will wear one of your watches or the circumstances in which they will wear it?
A. My clients are unique people. They love art and culture and want to support independent creation instead of following trends and big brands. Some of them are watch collectors with a lot of knowledge about watches who already have a nice collection of famous watches, and they are looking for something that no one else has.
Q. Tell me about the watch you wear today.
A. Today I am wearing the dark blue Full Month. Every day I choose a different watch and adapt it to the clothes I wear. You can see pictures with watches on my wrist on my Instagram account @itay_noy.
LEARN MORE
This content is created and maintained by a third party, and uploaded to this page to help users provide their email addresses. You may be able to find more information about this and other similar content on piano.io