These forgotten vintage watch brands are back with new models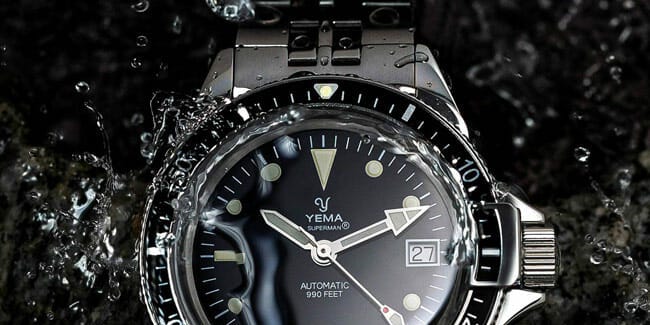 The influence of "vintage" has practically invaded the modern watch market. Remakes have moved from oversized modern interpretations to more faithful reproductions, while new designs often have a 'retro' feel. The nostalgia associated with classic designs and a historic name seems to resonate with consumers and shows no signs of slowing down.
As this trend matures, however, something interesting is happening: In addition to re-released models, entire watch brands themselves are "re-released". That is, brand names that were prominent in decades past but have since faded or gone completely have been resurrected.
Each has a different history and a different approach to watchmaking, but many fell victim to the quartz crisis. Now, often under new ownership that has bought the rights to the names, designs, and even the technologies, the business model typically looks a lot like that of many micro-brands and often includes the use of crowdfunding. What binds them all is that they are riding the wave of nostalgia and general enthusiasm for analog and weathered things. Below are a few notable revitalized brands worth watching.
Ollech & Wajs
Ollech & Wajs is an interesting example because the tool watches produced under this name were initially relatively obscure, even among vintage collectors. Additionally, modern O&W has taken an interesting approach by not making exact replicas of its vintage models, but creating new designs that draw inspiration from the brand's catalog and influences. The P-104, for example, is a charming aviator's watch and was among the brand's earliest models under his current leadership.
Notable model: P-104 S
Price: $ 1,229
Yema
Yema never stopped producing watches, but its Heritage collection rekindled interest in the brand with the reintroduction of the Superman model. Yema now represents a modest resurgence of French watchmaking. The modern Superman diver's watch is almost an individual reproduction of a 1963 model, with an original bezel locking mechanism that makes it stand out from the crowd. Its popularity spawned a collection of Superman diver's watches, but other Heritage pieces like the Yachtingraf and Speedgraf are also worth a look.
Notable model: Legacy of Superman
Price: $ 1,099
The day
While Le Jour was originally the name under which Yema watches were distributed in the American market, today the brand is independent and makes perhaps some of the more modern watches on this list while also incorporating clinkers. clear eye to his past. Take the new Hammerhead: it has a clear '70s influence but feels both modern and sporty, especially given its 42mm wide case. With prices and specifications similar to those of a micro-brand, Le Jour offers high added value and uniqueness.
Notable model: hammer
Price: $ 800
Nivada
Nivada is a relatively well-known name among vintage watch hunters for its mid-century tool watches and chronographs. And the newly resurrected brand is not beating around the bush, with a stated mission to simply bring back its most popular vintage models. They made their debut with the 39mm Chronomaster Chronograph, which almost looks like a real vintage model, but is entirely modern in construction, materials and movement. You just can't dispute its completely retro look.
Notable model: Stopwatch
Price: ~ $ 1,730 +
The Forban Sea Safety
Even vintage watch enthusiasts may not have heard of this French brand whose watches were "mainly sold in nautical equipment stores" from the late 1960s. Its first modern timepiece, however – an interpretation of the watches he made for the French Navy – is affordable and stylish. La Malouine is driven by a cheap Japanese movement and assembled by the brand in Paris.
Notable model: Malouine
Price: ~ $ 440
Timor
Twelve companies made watches for the British Army in 1945, variously referred to as WWW (for Wrist Watch Waterproof) or the "Dirty Dozen" by collectors, and are among the most famous military watches of all time. Among the bigger Dirty Dozen brands like IWC and Omega, there was a more obscure brand called Timor, and it is returning to the watchmaking scene with a recreation of its famous field watch. Produced in Switzerland, the Heritage Field looks like a piece of history but will last longer into the future than a true vintage copy.
Notable model: Heritage area
Price: $ 1,126
Mountain peak
Vertex was another one of the Dirty Dozen (see Timor above), and while the brand also has its own reissue of field watches, it has another cool military heritage to lean on. The MP45 is based on an "artillery timing watch" – a single push-button chronograph commissioned by the British War Office in 1945 but never actually produced. Military and vintage themes combine well for Vertex in timepieces that have a pragmatic and even vaguely modern attitude.
Notable model: MP45
Price: ~ $ 3,510
Ikepod
Ikepod was a newer phenomenon than many brands on this list, co-founded by famous industrial designer Marc Newson in 1994. Just a few years after going out of business, the modern Ikepod was relaunched, under different owners with a lower average price while maintaining the staggered designs of the originals. Automatic options exist from the brand, but the Duopod quartz is the design most known to enthusiasts and also the most affordable.
Notable model: Duopod
Price: ~ $ 625
Eza
Eza is a relatively obscure name, even for many vintage watch enthusiasts. Resurrected by two Dutch entrepreneurs, the strongest model of the modern Eza, the 1972, offers a connection to its heritage in the form of a very retro diver. It's a good size at 39.6mm and priced well under $ 1,000 with a Swiss automatic movement inside. Brimming with retro influence reminiscent of vintage divers, the 1972 nevertheless stands out with its unique dial indexes.
Notable model: 1972
Price: $ 759
Alsta
A diver's watch that featured in the iconic film Jaws made a pretty cool reissue. Actor Richard Dreyfuss wore the Alsta Nautoscaph in the 1975 film, and the brand returned with the sequel to the watch some 50 years later. Originally active around the same time as diving watch brands like Doxa and Aquadive (which are also making a comeback as serious divers), the modern Alsta retains the look and specifications of a diver's watch. designed to fight a man-eating shark.
Notable model: Nautoscaph Superautomatic
Price: $ 970
Tropic
Tropic is not a watchmaker, but rather a manufacturer of the rubber straps associated with the iconic dive watches of the '60s and' 70s. As is the case with many of the watch brands mentioned here, industry veterans have acknowledged market demand based on the enthusiasm of vintage watch collectors and relaunched Tropic's classic vulcanized rubber strap. The modern version will surely go well with the vintage dive watch reissues above.
Notable model: Tropic diving strap
Price: $ 79
This content is created and maintained by a third party, and uploaded to this page to help users provide their email addresses. You may be able to find more information about this and other similar content on piano.io