World famous watch brands now in Dhaka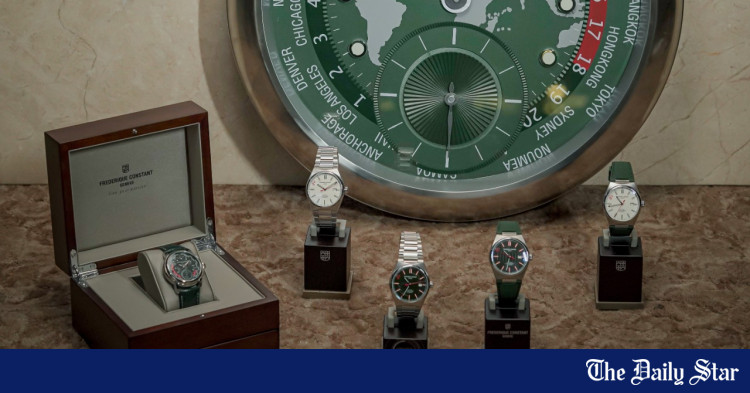 "Mohammad & Sons", a Meghna Group company, is one of the leading luxury watch retail outlets in Bangladesh. The boutique holds the distribution of world famous Swiss watch brands such as ZENITH, TAG HEUER, MONTBLANC, MOVADO, ORIS, FREDERIQUE CONSTANT and many others. "Mohammad & Sons" has gained enormous attraction over the years and is highly coveted and revered by the watch connoisseur community of Bangladesh.
Driven by a patriotism infused with a passion for sophisticated timepieces, to commemorate the 50th anniversary of Bangladesh's independence, "Mohammad & Sons" recently teamed up with Frédérique Constant to present 50 limited-edition pieces, as well as a special edition watch and wall clock. These ingenious and iconic timepieces are both one-of-a-kind and resonate with the emotions of the people of Bangladesh. "Mohammad & Sons" handed over the 50 limited edition watches to their proud owners by hosting a grand event at the Radisson Blu, Dhaka.
The wristwatch industry in the country is valued at 180-200 crore with a CAGR of 10% per year. There is a massive demand for luxury and mass brands, imported from countries like Switzerland, Germany, Japan, France, USA, etc. Of these countries, Switzerland is the best known. The watch market is expected to proliferate ubiquitously, with more customers acquired and renowned brands imported.
Managing Director, Mr. Safayet Chowdhury Jason said "Mohammad & Sons" is true to the vision of achieving and delivering nothing less than excellence. "Frederique Constant World-timer Bangladesh Limited Edition" was hugely successful and inspired us. In collaboration with Frederique Constant, we have created two variants of Frederique Constant Highlife COSC Bangladesh Special Edition and Wall-Clocks in limited quantities. The Special Edition watch and wall clock are available in our showrooms and we have already sold a remarkable number of pre-order units.
Mr. Jason hopes the brand will continue to offer distinctive and iconic timepieces in the coming days for its hugely supportive and rapidly proliferating customer base.
Exhibition room
• Gulshan Showroom, Casablanca (ground floor), 114 Gulshan Avenue, Dhaka-1212
• Bashundhara City Mall Showroom, Level 1, Block A, Shop 39, Panthapath, Dhaka-1215
Website: www.mohammadandsons.com