The Best German Watch Brands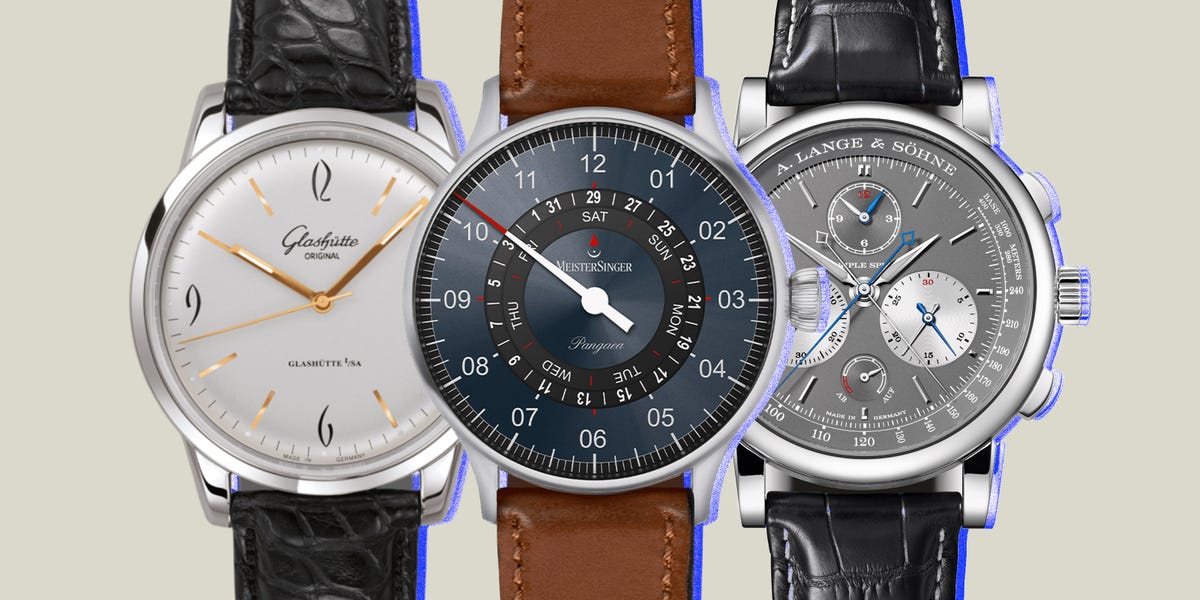 Ask the average consumer where the best watches in the world are made and they'll undoubtedly say, "Switzerland." After all, most of the recognizable brands like Jaeger-LeCoultre, Vacheron Constantin, Rolex and Patek Philippe hail from that neutral Alpine nation. It is partly the neutrality of Switzerland that has allowed these great names of horology to continue their rich histories, uninterrupted by wars, going back, in some cases to the mid-18th century.
But look across the border to Germany and you will see a renaissance of some great names in watchmaking — and some upstart brands — that are hitting their stride and turning out great timepieces that rival those of their Swiss neighbors. The great centers of German watchmaking such as Pforzheim and Glashütte are once again at the fore of the industry after half a century of dormancy and recovery from World War II and a Communist government that squashed individualism and discouraged innovation. This article is a guide to the characteristics that make German watches stand out and a survey of some of the top brands.
German watches are distinctively unique, often purpose-built, with innovations both outside and inside their cases. This should not be surprising, given the reputation Germany has for its superb engineering and craftsmanship. On the one hand, you have brands like Damasko and Sinn that focus on the durability of their watches, with super-hardened steel cases that are virtually scratch-proof, the latter of which use injected Argon gas and copper sulfate capsules to keep the movement free of moisture, for example. The German tradition of metalworking is alive and well at case manufacturers Fricker, Ickler and SUG, and German watch cases are renowned for their durability and precision tolerances.
On the other hand, the great watchmakers of Glashütte focus on movement innovation, with the likes of fusée-and-chain mechanisms, month-long power reserves and monthly mechanical alarms. Traditionally, movements from Glashütte were made from nickel steel ("German silver") and had three-quarter sized baseplates which provide a sturdy anchor point for the gear train, and the modern German-made movements are still often distinguished by this characteristic. The rich history of delicate and difficult decoration in Glashütte is still evident in the movements of A. Lange & Söhne, where all movement parts are intricately hand-engraved on front and back and the balance cock signed by the artisan. (Something we've witnessed in person.)
Styling of most German watches is stark and minimalist, following the Bauhaus aesthetic of clean lines and form following function. There is a refreshing lack of writing on the dials, sober use of color and an emphasis on readability. Cases often have straight edges, angled lugs and beveled flanks. Even to the untrained eye, the DNA of a German watch is apparent, not unlike the purposeful elegance that makes that country's automobiles, tools and cameras instantly recognizable.
German watches run the gamut from eminently affordable to stratospherically expensive based largely on materials used, the extent to which movements are developed, built and decorated in-house and availability and exclusivity. What this means is that there really is a German watch for just about everyone, whether you're looking for a durable timepiece to stand up to the rigors of daily life or an investment-grade work of mechanical art. Here's an overview of a few of Germany's most notable watch brands.
Sinn
Sinn is the cockroach of watches, and we mean that as a compliment. If you're looking for a watch that will survive the apocalypse, look no further. A favorite of law enforcement, military, divers and adventurers, Sinn watches focus on durability and the list of features and innovations is long. Their use of specially treated, "tegimented" submarine steel for the cases is legendary, making the steel highly resistant not only to corrosion but also to scratches and dings.
Though Sinn uses Swiss movements for their watches, they make sure they're safe and dry by injecting inert Argon gas in the cases and fitting a copper sulfate plug in the side of the watch case to absorb moisture. Their DIAPAL watch movements are fitted with Sinn's proprietary oil-free escapements, which are virtually friction-free, which means longer service intervals and resistance to wear.
Sinn makes a wide range of timepieces but we like their tegimented and black-coated 757, which packs a self-winding chronograph and legible aircraft instrument-inspired dial into a bombproof, 200m-water-resistant case.
LEARN MORE SHOP PRE-OWNED
Stowa
Stowa is a storied name that has been shepherded back to relevance in recent years by German watchmaker Jorg Schauer. Once a maker of naval deck watches and pilots' watches for the German military, Stowa is making updated versions that recall these historical timepieces. Their recently released Chronograph 1938 is a beautifully detailed two-register chronograph with classic pump pushers and an embossed dial. But far from a retro watch company, Stowa also makes two fine modern dive watches, the Seatime and the Prodiver, which have angular cases, striking dials and interchangeable colored bezels.
Though it's a tough choice, our favorite Stowa is still the Marine Original which is based on an old naval deck pocketwatch and comes in both automatic and hand-wound versions, both with blued steel hands and a strikingly legible elegant dial.
LEARN MORE SHOP PRE-OWNED
MeisterSinger
And now for something completely different. MeisterSinger makes watches that are distinctively German in appearance while decidedly not German in attitude. Their calling card is the one-handed watch. That's right, from the country known for its precision and punctuality comes a watch that takes a more relaxed approach to timekeeping. It's not as crazy as it sounds.
After all, how often do you, when asked what time it is, say, "10:52?" No, you'd probably say "10:50" or "ten minutes before 11." The hashes on the outer register are divided into five-minute increments to which the long hour hand points as it makes its lap around the dial. After some getting used to, you might never care about precise timekeeping again. Despite this rather whimsical concept, MeisterSinger watches still bear a strong "instrument aesthetic" with their prominently demarcated minute tracks and bold, gauge-needle hands.
MeisterSinger, far from being a one-trick pony, finds ways to endlessly riff on the single-hand concept by incorporating other functions and information all while staying true to its concept. Expanding on the idea that the single hour hand offers a more wholistic sense of time and natural cycles, the Pangaea Day Date leaves the full day-of-the-week and date wheels visible on the dial so you can also see right where you are in the week and month.
LEARN MORE SHOP PRE-OWNED
UTS
Like Sinn, UTS makes rugged, purpose-built watches that make no compromises or apologies. This watch is an iron fist in a velvet glove. All angles and exposed screws, stark dial and hefty size, a UTS is not for the meek or the limp-wristed. A young company, UTS was founded in 1999 by mechanical engineer, Nicolaus Spinner, who still builds and assembles every UTS himself.
The cases are thick and slab-sided, giving no illusion that this is anything but a tool watch. In fact, many UTS watches essentially look similar, with trademark bolted-on square lugs, legible hashed dials and chunky bezels. Making only dive watches, UTS does offer models with a GMT complication or a chronograph but other than that, they keep things simple. The only choices you need to make are dial color and depth rating. And they can go deep.
The beast of the UTS lineup is the 4,000m diver, which has a bidirectional locking bezel that rotates on ceramic ball bearings and has a glued and screwed 6mm thick sapphire crystal. This is the definition of German over-engineering.
LEARN MORE SHOP PRE-OWNED
Nomos
While the previous watches in our lineup all use modified Swiss movements, Nomos occupies that rarified stratus of a true watch manufacture, designing and building all of their own movements in-house. And while that trait usually means high prices, Nomos somehow manages to remain downright affordable, making their watches a great entry point for collectors of fine German timepieces.
Nomos hails from that small eastern German town near Dresden famous for watchmaking, Glashütte. There are over a dozen watch companies in Glashütte, with the majority of the town's modest population made up of watchmakers. And while the big boys in town cast a wide shadow, Nomos turns out some fine timepieces themselves. Nomos watches are perhaps the strongest adherents to the Bauhaus school of design with simple, almost plain dials and cases. But turn one over and gaze through the display case back and you see nicely decorated movements in the Glashütte watchmaking tradition.
While the majority of Nomos watches are simple hand-wound or automatic time-only pieces, their Zurich World Time is a watch world sweetheart with its unique take on the world time complication. It's an impressive combination of design, technical features and value.
LEARN MORE SHOP PRE-OWNED
Glashütte Original
In the years following World War II, the East German Communist government took advantage of the concentration of watchmaking prowess in Glashütte, doing away with the proud individual brands, and nationalizing them under one rather unimaginative name, Glashütte Uhrenbetrieb (GUB). The skilled craftsmen of the proud town were forced to turn out cheap "people's watches," using subpar materials and eschewing the decoration and innovation that was a hallmark of German watchmaking. Since the Berlin Wall fell, the watch industry in Glashütte has made a comeback. One brand that has been emblematic of this rebirth is Glashütte Original.
Ironically, Glashütte Original, or GO, is one of the premium brands owned by the quintessentially Swiss behemoth Swatch Group. Thankfully, Swatch has kept its hands largely off of the day to day running of GO, instead providing benevolent oversight and financial and marketing support when needed. The brand has become one of the most respected and creative in the industry, making both avant-garde sports watches with highly shockproof movements to elegant, historically-inspired dress watches. Movements are made entirely in-house and decorated according to the traditions of its namesake hometown.
The Sixties line is a beautiful reinterpretation of the watches GUB was making in the Cold War years but refined and updated with utterly modern manufacture movements.
LEARN MORE SHOP PRE-OWNED
A. Lange & Söhne
At the top of the German horological heap sits A. Lange & Söhne, the undisputed symbol of East German watchmaking's rebirth and a true national treasure. The company, restarted by the founder's great grandson, Walter Lange, in 1994, is often mentioned in the same breath as the top Swiss watch brands such as Patek Philippe and Vacheron Constantin, and indeed some collectors hold it in even higher regard.
Lange is known for its innovation, its traditions and its great attention to detail. There may be no other watch company that puts as much emphasis on movement decoration as Lange & Söhne (more on that here). Even parts that will never be seen by anyone but a watchmaker are meticulously beveled, perlaged and polished by hand. All movements are assembled twice, first to ensure proper operation, then disassembled, cleaned and reassembled with all new screws. Impossibly expensive and mostly only in precious metal cases, Lange watches are unattainable Holy Grails to all but a lucky few.
Decoration aside, Lange is also known for its advancement of the horological art, through its development of the world's first double-split chronograph, its 31-day power reserve movement, the adaptation of the fusee-and-chain mechanism and countless other accomplishments. The Saxonia Triple Split chronograph builds upon its already impressive Double Split.
LEARN MORE SHOP PRE-OWNED
Abschluss
This article is by no means a comprehensive overview of all the German watch brands. We had to leave off some fine names like Mühle Glashütte, Damasko, Archimede, Union Glashütte and more for brevity's sake. But hopefully you've acquired an understanding of the gestalt of German watches and a new appreciation that will inspire further exploration.
This content is created and maintained by a third party, and imported onto this page to help users provide their email addresses. You may be able to find more information about this and similar content at piano.io